"Event Venues Near Me" for All Occasions: The Hudson's Versatility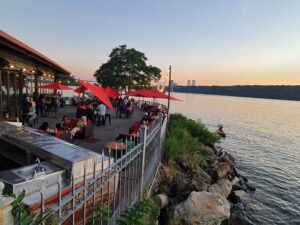 When it comes to planning an event, whether it's an intimate gathering, a medium-sized celebration, or a grand-scale affair, one thing holds true: the venue sets the tone. If you have been searching for "event venues near me" you are in luck. Located near Upper Manhattan with easy access to Midtown, The Hudson stands out as a versatile event space that can adapt to different types of local occasions. Let's explore how The Hudson's event spaces provide the ideal backdrop for a wide range of events, making it your go-to choice for celebrations in the neighborhood.
A Warm Welcome to Versatility
Life is filled with moments worth celebrating, and The Hudson understands that better than most. The key to a memorable event often lies in the venue's versatility. Whether you need a holiday party venue, or you're planning a cozy family dinner, a mid-sized bridal shower, or a grand-scale wedding, The Hudson has the perfect space to match your vision.
Intimate Gatherings: Cozy Spaces for Close-Knit Moments
For those cherished moments that call for an intimate setting, The Hudson offers cozy event spaces that bring your loved ones closer together. Whether it's a birthday celebration, a small family reunion, or an engagement party, our smaller spaces provide the ideal atmosphere for heartfelt gatherings.
Imagine hosting an intimate dinner in a space filled with warmth and character, where every guest feels like they're at home. It's the kind of ambiance that transforms a gathering into a cherished memory. The Hudson's intimate event spaces are designed to create these special moments.
Medium-Sized Celebrations: Accommodating Growing Guest Lists
As your guest list grows, The Hudson's event spaces can gracefully adapt. We understand that local residents often find themselves hosting medium-sized events, such as bridal showers, corporate meetings, or special anniversaries. Our mid-sized event spaces strike the perfect balance between intimacy and room to mingle.
These spaces allow your guests to move comfortably while still maintaining the personal touch that makes smaller gatherings so special. With The Hudson, you don't have to compromise on the guest list or the atmosphere.
Large-Scale Events: Grand Settings for Grand Occasions
When it's time to host a grand celebration, The Hudson's larger event spaces come into play. Our event venue can accommodate grand weddings, gala dinners, conferences, and other significant events. With its impressive capacity and adaptable layout, it's the perfect canvas for creating unforgettable memories on a grand scale.
Picture the iconic George Washington Bridge as your backdrop while you exchange vows or deliver a keynote speech. The Hudson's larger event spaces offer the grandeur and flexibility needed to bring your vision to life.
Indoor and Outdoor Choices: The Best of Both Worlds
One of the unique features of The Hudson's event spaces is their ability to seamlessly transition from indoor to outdoor settings. Our retractable floor-to-ceiling windows on all four sides of the Dining Room provide an unmatched indoor-outdoor experience.
You can enjoy the beauty of the Hudson River and its surroundings while being sheltered from the elements. Whether you prefer the open-air ambiance of a riverfront celebration or the coziness of an indoor gathering, The Hudson offers the best of both worlds.
Customizing the Experience: Tailored Event Packages
At The Hudson, we believe in tailoring every event to meet your unique preferences. Our experienced event specialists work closely with you to create a customized event package that incorporates your ideas and vision. From the menu selection to the decor, we ensure that every detail aligns with your expectations.
We understand that your event is a reflection of your personality and style, and we're here to make it uniquely yours. If you have been searching for event venues, The Hudson's event packages provide the flexibility you need to craft the perfect experience.
Culinary Excellence: A Flavorful Journey
At The Hudson, we pride ourselves on curating a culinary experience that leaves a lasting impression on your event. Our commitment to excellence begins with sourcing the finest locally grown ingredients. Our skilled chefs transform these fresh and flavorful elements into culinary masterpieces that cater to a variety of tastes and dietary preferences.
From savory appetizers that awaken the senses to delectable main courses that satisfy even the most discerning tastes, our menu offerings promise an array of culinary delights. The sweet endings to your meal are equally delightful, with a selection of desserts that range from rich and creamy to light and refreshing. With The Hudson, your event becomes a celebration of freshness and flavor, elevating your dining experience to new heights and leaving your guests craving more. Join us in savoring the flavors of the season, and let The Hudson's culinary expertise take your celebration to the next level. Your culinary journey awaits, and it begins at The Hudson.
The Perfect Choice for Those Seeking "Event Venues Near Me" in NYC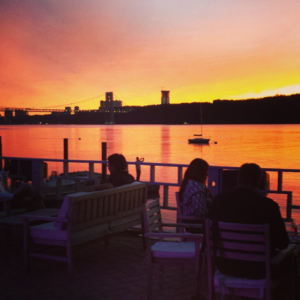 For those in search of "event venues near me," The Hudson's event spaces offer a warm and welcoming canvas for all occasions near Upper Manhattan and Midtown. Whether you're planning an intimate gathering, a medium-sized celebration, or a grand-scale event, we have the perfect space to make your vision a reality. With versatile event spaces, customization options, and unmatched hospitality, The Hudson is the ideal choice for creating unforgettable memories right in your neighborhood.
We invite you to explore the possibilities, envision your dream event, and let The Hudson be the backdrop for your next celebration. Join us in celebrating life's milestones, and experience the warmth and versatility of The Hudson. Contact us online today to make your reservation.