Creating Unforgettable Memories: The Hudson's Event Venues for Special Occasions
If you have been sifting through event venues seeking the perfect one to celebrate life's significant milestones, look no further. The Hudson, nestled near the heart of New York City's Riverdale and Inwood neighborhoods, is your answer. Together, we will take a look at the reasons why choosing The Hudson for your special occasion is the key to creating unforgettable memories.
A Unique Location for Special Moments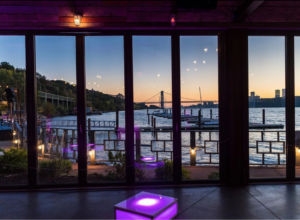 Before we delve into the details that set The Hudson apart from other event venues, let's first appreciate the stunning backdrop that this venue offers. Imagine celebrating your special day with panoramic views of the Hudson River and the iconic George Washington Bridge. The picturesque surroundings create an ambiance that simply can't be replicated elsewhere. The Hudson's location is not just an event venue; it's an experience.
Easy Access and Convenience
One of the standout features of The Hudson is its accessibility. Whether you're arriving by land or sea, getting to our venue is a breeze. We offer easy access for charter boats and buses, ensuring that your guests can arrive comfortably and in style. Our valet parking service takes the hassle out of finding a parking spot in the busy city, and for those who prefer public transit, we're conveniently located near accessible public transportation options.
Captivating Dining Room
Step into The Hudson's Dining Room, and you'll be immediately enchanted. Our event space features fully retractable floor-to-ceiling windows on all four sides. This innovative design allows you to seamlessly transition between indoor and outdoor spaces, making your celebration even more dynamic. Whether you prefer the cozy ambiance of an indoor setting or the open-air beauty of the riverfront, The Hudson's Dining Room has you covered.
Move to the Music: State-of-the-Art Sound System
Music is the lifeblood of any celebration, and at The Hudson, we've taken this to heart. Our state-of-the-art multi-zone sound system is compatible with DJs and live bands, ensuring that your music is heard in every corner of the venue. Whether you're dancing the night away or enjoying a serene background melody, our sound system delivers impeccable audio quality that elevates your event.
Customized Event Packages: Your Vision, Our Expertise
Now, let's talk about the heart of creating unforgettable memories: our customized event packages. We understand that every special occasion is unique, and we're here to make your vision a reality. Our experienced event specialists will work closely with you to tailor an event package that incorporates your preferences and ideas.
Whether it's a lavish birthday celebration, a heartwarming anniversary gathering, a joyful shower, a memorable Bar Mitzvah, or an elegant Bat Mitzvah, our event spaces can accommodate milestone events of any size. From intimate family affairs to grand celebrations with friends and loved ones, The Hudson adapts to your vision seamlessly.
Unmatched Hospitality: Your Comfort, Our Priority
At The Hudson, we take pride in our warm and attentive hospitality. Our dedicated team sets itself apart from other event venues by being with you every step of the way, ensuring that your celebration is seamless and stress-free. From the initial planning stages to the day of the event, we're here to cater to your needs and ensure that you and your guests feel truly special. Your comfort and satisfaction are our top priorities, and we're committed to making your special day absolutely perfect.
The Hudson: Where Memories Are Made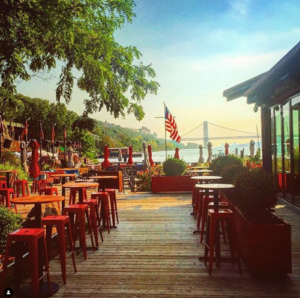 When you choose The Hudson as your event venue for special occasions, you're choosing more than just a location. You're choosing a unique experience, easy accessibility, a captivating dining room with retractable windows, a cutting-edge sound system, customizable event packages, and unmatched hospitality that puts other event venues to shame.
As you embark on this significant milestone in your life, let The Hudson Waterfront Restaurant be a part of your story. Experience the beauty of our waterfront location, the warmth of our hospitality, and the joy of celebrating with family and friends. Your search for the ideal event venue ends here, near the heart of Riverdale and Inwood, at The Hudson.
Book Your Celebration at The Hudson
Don't wait any longer; contact us online today to book your celebration at The Hudson. Let us help you create unforgettable memories that will last a lifetime. Experience the magic of our waterfront venue in the heart of NYC's most vibrant neighborhoods. Whether you're looking for an intimate gathering or a grand celebration, The Hudson is where your special moments become cherished memories. Join us in celebrating life's milestones at The Hudson.