Finding the Perfect Event Venue in Washington Heights: What to Look For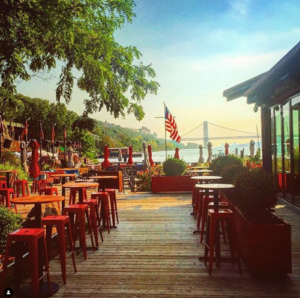 When planning an event in the bustling neighborhood of Washington Heights, choosing the right venue is a decision that can shape the entire experience. Whether it's a wedding, a milestone celebration, or a corporate gathering, the venue sets the stage for memories to be made.
Together, we'll explore the key factors that define a good event venue and what event planners should consider when searching for the ideal location. We'll also introduce you to The Hudson, a standout event venue in Washington Heights that excels in meeting these criteria.
Key Factors for a Good Event Venue
A good event venue is more than just a physical space. It's an essential component of your event's success. Here are the key factors to consider when searching for the perfect venue:
1. Location Matters
The location of your event venue is a crucial element that can significantly impact attendance and overall convenience. When choosing a venue, consider:
Accessibility: Is the venue easily accessible by public transportation, highways, and airports?
Convenience: Will attendees find it convenient to reach the venue without any major challenges?
Proximity to Accommodations: Are there nearby hotels or accommodations for out-of-town guests?
A centrally located venue, like The Hudson in Washington Heights, can make it easier for attendees to join your event and enjoy a hassle-free experience.
2. Event Space Versatility
Versatility in event spaces is key, as it ensures that the venue can adapt to various types of events. When evaluating a venue, take stock of:
Adaptability: Can the event spaces be customized to match the theme and needs of your event?
Capacity: Does the venue offer spaces that comfortably accommodate your expected number of attendees?
Flexibility: Are there different event spaces available for various event components (ceremony, reception, breakouts, etc.)?
Versatile event spaces, like those at The Hudson, allow you to create a tailored atmosphere for your event. This is true for events of any size, whether it's an intimate gathering or a large-scale celebration.
3. Catering Services That Impress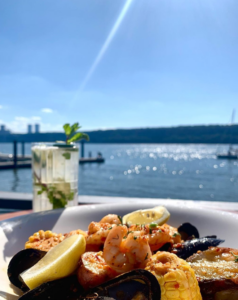 Exceptional catering services can elevate the overall experience for your attendees. Look for a venue that offers:
Diverse Menu Options: Does the venue provide a wide range of catering choices to suit different tastes and dietary preferences?
Quality Ingredients: Are locally sourced and fresh ingredients used in preparing dishes?
Customization: Can the catering menu be tailored to your event's specific needs?
A venue like The Hudson takes pride in offering a dining experience that delights every attendee. Their skilled chefs source the finest locally grown ingredients to craft delectable dishes.
4. Ambiance and Atmosphere
The ambiance and atmosphere of a venue contribute to the overall mood of your event. When visiting a venue, consider:
Aesthetic Appeal: Does the venue have a welcoming and aesthetically pleasing design?
Lighting and Decor: Are there options for customizing lighting and decor to match your event's theme?
Comfort and Layout: Is the seating arrangement comfortable for your attendees, and does it support the flow of your event?
A venue with a warm and welcoming ambiance, like The Hudson, sets the stage for a memorable and enjoyable event atmosphere.
5. Dedicated Event Staff
A dedicated and attentive team of event professionals can make all the difference in the success of your event. Inquire about:
Event Planning Support: Does the venue offer event planning assistance to help you with logistics and coordination?
Hospitality: Is the venue known for its warm and attentive hospitality?
Problem-Solving Skills: How does the venue handle unexpected challenges during events?
A venue like The Hudson boasts a dedicated team that will be with you every step of the way and make sure your event runs smoothly and stress-free.
Introducing The Hudson
Now that we've explored the key factors that make a good event venue, let's turn our attention to The Hudson, a remarkable venue in Washington Heights that excels in meeting these criteria.
The Hudson's Ideal Location
The Hudson is perfectly situated in the heart of Washington Heights and provides an ideal location for various events. It offers easy access for attendees coming from different parts of the city and beyond. With its proximity to Midtown and Upper Manhattan, choosing The Hudson means your event is accessible to all.
Versatile Event Spaces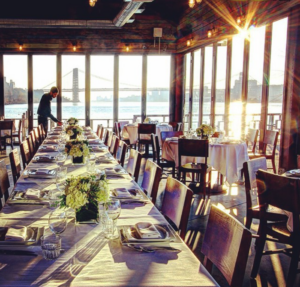 One of the standout features of The Hudson is its versatility in event spaces. Whether you're planning a wedding, a milestone celebration, or a corporate event, The Hudson has the perfect space to suit your needs. Their event spaces can be customized to create the ideal atmosphere for your event, ensuring that it stands out and leaves a lasting impression.
Exceptional Catering Services
At The Hudson, exceptional food is at the heart of their offerings. Their skilled chefs take great pride in sourcing the finest locally grown ingredients to craft dishes that celebrate freshness and flavor. From savory appetizers to delectable main courses and delightful desserts, your event at The Hudson will feature exceptional food for all of your guests.
Warm and Attentive Hospitality
The Hudson's staff takes great pride in providing gracious service and is dedicated to helping every event succeed. From the planning stages to the day of the event, they are there to cater to your needs and ensure that you and your guests feel truly special. Their commitment to making every event unique and memorable sets them apart.
Starting Planning Your Next Event at The Hudson Today
Finding the perfect event venue in Washington Heights involves considering several key factors. These include location, event space versatility, catering services, ambiance, and the dedication of the venue's event staff. These elements come together to create a memorable event experience.
The Hudson is located in Washington Heights and excels in meeting these criteria. It stands as a shining example of an exceptional event venue. With its ideal location, versatile event spaces, top-notch catering services, warm hospitality, and commitment to customization, The Hudson offers everything you need to make your event truly special. Contact them online today and reserve dates for your next event.