Elevate Your Corporate Gatherings in NYC: The Hudson's Versatile Corporate Event Venue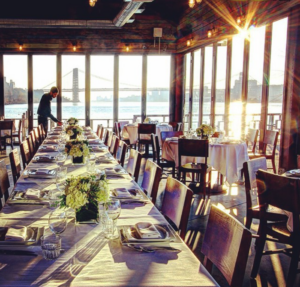 When it comes to corporate events in New York City, finding the right venue is crucial. You need a place that can adapt to various types of gatherings, from team-building workshops to product launches and awards ceremonies. The Hudson, located in Washington Heights, has versatile event spaces that fit the bill.
Why Versatility Matters
Having versatile event spaces gives event planners much needed flexibility and freedom. Whether you're planning a team-building workshop, a product launch, or an awards ceremony, you want a space that suits your needs. The Hudson's event spaces can adapt to make your event a success.
The Hudson's Event Spaces
The Hudson offers a variety of event spaces, and each has its own unique features. Let's take a look at them:
Team-Building Workshops: If you're organizing a team-building workshop, you need a space that encourages collaboration. The Hudson has rooms that can be set up to facilitate group activities and brainstorming sessions. These spaces are designed to bring teams closer together.
Product Launches: When you're launching a new product, you want an event venue that helps you make a big impression. The Hudson's event spaces provide a stylish backdrop for your product showcase. The Hudson's primary location in Washington Heights has a stunning view of The Hudson River and The George Washington Bridge. They also come equipped with state-of-the-art amenities to enhance your presentation.
Awards Ceremonies: Celebrating excellence requires an elegant setting. The Hudson's event spaces can be transformed into beautiful venues for awards ceremonies. You can create a memorable atmosphere that honors your achievers.
Seminars and Conferences: For corporate seminars, conferences, and meetings, The Hudson has spaces that offer comfort and professionalism. You can count on technical support and excellent audiovisual capabilities for your presentations.
Customization Options
Every corporate event is unique, and The Hudson understands that. That's why they offer customization options for event packages, catering, and décor. You can tailor your event to match your specific needs and brand image. The Hudson's team will work with you to make sure everything is just right.
Scenic Riverside Charm
One of The Hudson's standout features is its location along the Hudson River. The scenic beauty adds an extra layer of charm to your corporate events. Your attendees can enjoy the view while being conveniently close to Upper Manhattan and Midtown. It's a win-win.
Unmatched Hospitality
Behind every great corporate event is a team of dedicated professionals. The Hudson's team takes pride in their warm and attentive hospitality. They'll be there every step of the way, ensuring your event runs smoothly. From planning to execution, they've got you covered.
Perfect Venue for All Types of Events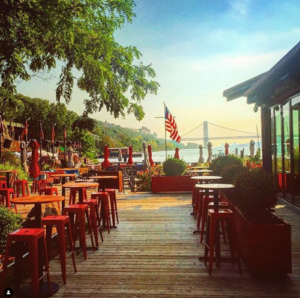 But wait, there's more! The Hudson isn't just about corporate gatherings. It's the perfect venue for a wide range of events, making it a versatile choice for all occasions.
Holiday Parties: Whether it's a festive year-end celebration or a special holiday-themed event, The Hudson's event spaces can be decked out to create a magical holiday atmosphere. It's the ideal place to spread holiday cheer with your team, friends, or family.
Bar, Bat, and B'nai Mitzvahs: These important coming-of-age celebrations deserve a venue that can accommodate the significance of the occasion. The Hudson's event spaces can be customized to create a memorable experience for your child's Bar or Bat Mitzvah. Choosing The Hudson for these event creates a beautiful fusion of old customs and contemporary style.
Celebrations of All Kinds: From milestone birthdays to anniversary parties, baby showers to retirement celebrations, The Hudson's versatile event spaces can adapt to your unique event needs. Whether you're hosting an intimate gathering or a large-scale celebration, The Hudson has you covered.
No matter what type of event you're planning, The Hudson's adaptability, customization options, and scenic charm make it the ideal venue. Here, you can create memorable moments for all occasions.
Reserve Dates for Your Next Corporate Event Today
The Hudson's versatile event spaces are a game-changer for corporate gatherings in NYC. The Hudson has the space and amenities you need whether it's a team-building workshop, a product launch, an awards ceremony, or a conference. Customization options, scenic charm, and unmatched hospitality are the icing on the cake.
Don't stress over finding the perfect venue for your corporate event. The Hudson has you covered. It's a straightforward choice that elevates your gatherings to new heights. Contact them online today to reserve dates for your next corporate event in New York City.