What Makes a Great Corporate Event Venue in Washington Heights: Welcome to The Hudson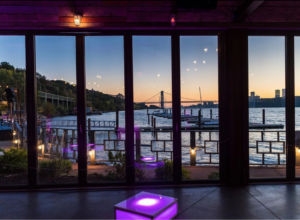 Choosing the right venue for a corporate event is an incredibly important part of the planning process. It's where the magic happens, where ideas are shared, and where lasting memories are created. Together, we'll explore the essential factors that make a corporate event venue truly stand out and why the location matters. Additionally, we'll shine a spotlight on The Hudson in New York City. They are a prime example of an impressive and versatile corporate event venue in Washington Heights.
The Key Factors That Make a Corporate Event Venue Stand Out
So, what makes a corporate event venue exceptional? It's a blend of several crucial elements that come together to create the perfect atmosphere. These factors include:
Event Space Versatility: A great venue offers adaptable event spaces that can accommodate various types of corporate events, from conferences and seminars to product launches and awards ceremonies. Versatility is the key to making every event unique and successful.
Top-Notch Catering Services: Exceptional catering services can elevate an event from ordinary to extraordinary. A venue that offers a delectable array of catering options ensures that your guests leave with a satisfied palate and a memorable dining experience.
Warm and Attentive Hospitality: The hospitality provided by the venue's team can make or break an event. Friendly and attentive staff who go the extra mile to meet your needs contribute to a seamless and stress-free experience for both hosts and attendees.
Why Location Matters for Corporate Events
Location matters more than you might think when it comes to corporate events. A well-chosen location can significantly impact the overall experience for your attendees. Here's why:
Accessibility: A central location with easy access via public transportation, highways, and airports ensures that your event is convenient for all participants. Attendees can arrive hassle-free, ready to engage and network.
Scenic Charm: The setting of your corporate event can set the mood and make it more memorable. A venue with a picturesque backdrop, such as a waterfront view, adds an extra layer of charm and sophistication to your event.
The Hudson: An Impressive and Versatile Venue in Washington Heights
Now, let's turn our attention to The Hudson, a shining example of an impressive and versatile corporate event venue in Washington Heights. Nestled along the banks of the Hudson River, The Hudson offers a blend of essential elements that make it an ideal choice for hosting corporate events of all kinds.
Event Space Versatility
One of the standout features of The Hudson is its versatile event spaces. Whether you're planning a team-building workshop, a product launch, an awards ceremony, or a corporate seminar, The Hudson has the perfect space to suit your needs. These adaptable spaces can be customized to create the ideal atmosphere for your event, guaranteeing that it stands out and leaves a lasting impression.
Top-Notch Catering Services
The Hudson understands that exceptional food is a crucial ingredient in creating unforgettable memories. That's why they take great pride in offering a catering experience that is exceptional. Skilled chefs source the finest locally grown ingredients to craft dishes that celebrate freshness and flavor. From savory appetizers to delectable main courses and delightful desserts, your event at The Hudson will satisfy and delight every attendee.
Warm and Attentive Hospitality
Behind every great event is a team of dedicated professionals, and The Hudson's team takes pride in their warm and attentive hospitality. They are there to cater to your needs and ensure that you and your guests feel truly special, from the planning stages to the day of the event. Their commitment to making every corporate event unique and memorable sets them apart.
Scenic Riverside Charm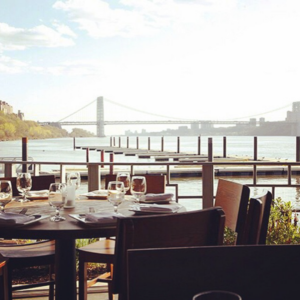 One of the defining features of The Hudson is its stunning location along the Hudson River. The venue offers breathtaking views that add an extra layer of charm to your corporate events. Your attendees can enjoy the scenic beauty while being conveniently close to Upper Manhattan and Midtown, making it the perfect event space on every level.
Reserve The Hudson for Your Next Corporate Event Today
Choosing the right corporate event venue is essential for ensuring the success of your event. The key factors that make a venue exceptional include event space versatility, top-notch catering services, and warm and attentive hospitality. Additionally, the location of the venue plays a significant role in enhancing the overall experience for your attendees.
The Hudson covers all of these bases and more. This makes it the perfect corporate event venue in Washington Heights. With its adaptable event spaces, exceptional catering services, warm hospitality, and picturesque riverside charm, The Hudson offers everything you need to make your corporate event truly special and memorable. So take the stress out of finding your next event venue; The Hudson has you covered and their team will make sure that your event is a resounding success. Contact them online today to check availability and find out what The Hudson can do for you.